20 Watt Tombstone Skatedboard deck by Sined Skateboards!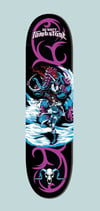 Sold out
Skate decks are back and this time with an even cooler design by Dan Biesel!
SIned Skateboards and Snowboards make quality products, that are not just great wall hangers, they are totally skateable!
Available in 8.25 inch width. And pool style.